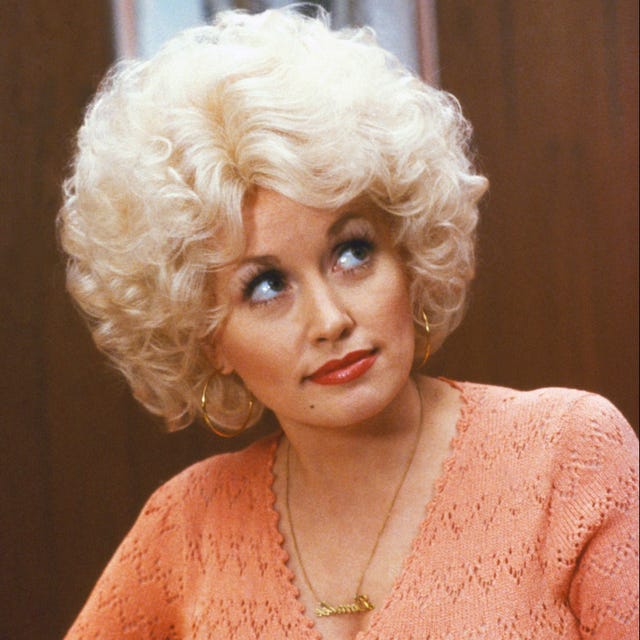 20th Century Fox
At this point, Dolly Parton qualifies as royalty. There's no disputing it—Dolly is a queen. (The Queen of Country, to be specific!) She's a grammy-winning singer and songwriter, generous philanthropist, and mega talented actress. On top of that, the absolute icon is a devoted wife to her husband Carl Dean and supportive godmother to Miley Cyrus! Suffice to say, the sequined matriarch and the empire she has built deserve some recognition. There are infinite ways to celebrate Dolly, from singing (read: screaming) along to her hit tunes in the car with the windows rolled down, all the way to taking a trip to Dollywood. And with Dolly's impressive list of big-screen appearances, you can also pay tribute to the star from the comfort of your couch!
That's why we've rounded up a list of the best Dolly Parton movies for your viewing pleasure. Dolly's films are truly timeless, so you'll find cult classics like Steel Magnolias and 9 to 5 from the '80s all the way to a documentary that was made in 2020. There are plenty of family-friendly picks listed here, including Coat of Many Colors and Christmas of Many Colors: Circle of Love that take inspiration from the idol's humble beginnings. You can count on killer soundtracks, dramatic twists, and swoon-worthy romance for an unforgettable, Dolly-filled movie night. Grab your popcorn and start watching!
Advertisement – Continue Reading Below
9 to 5
In this hilarious revenge movie, Dolly teams up with Jane Fonda and Lily Tomplin to trap their terrible boss and assume control of their office. You guessed it: Dolly's hit tune by the same name comes from this classic flick. 
Steel Magnolias
Take a trip to Natchitoches, Louisiana with this cult classic featuring a star-studded cast. Dolly plays a charming, big-mouthed beautician named Truvy Jones. 
The Best Little Whorehouse in Texas
Buckle your seatbelts for this whirlwind of a musical comedy! Dolly truly shines in this classic, boasting her vocals and acting skills. 
Coat of Many Colors
This family-friendly movie is based on Dolly Parton's upbringing in rural Tennessee. The inspiring film is a testament to love, faith, and family.
Dolly Parton's Christmas of Many Colors: Circle of Love
In this festive sequel to Coat of Many Colors, viewers once again learn about the early life of the country legend. This feel-good movie is perfect for bringing some Dolly magic to your holiday celebrations. 
Unlikely Angel
Dolly portrays a country star named Ruby Diamond who must help out a widowed father and his family in order to earn her wings and become an angel. 
A Country Christmas Story
Searching for a heart-warming film perfect for festive movie nights? Look not further than this inspiring tale about a young girl's quest for stardom. 
Joyful Noise
Dolly Parton and Queen Latifah play rival church choir members as they prepare for a national competition. This movie is one song-and-drama-filled adventure that you won't want to miss out on.
The Blue Valley Songbird
Dolly stars as Leanna Taylor, a wide-eyed singer who must confront her past and overcome personal challenges in order to achieve her dreams. 
Straight Talk
Find out what happens when Dolly Parton accidentally becomes an on-air radio psychologist in this wonderfully silly rom-com. 
Rhinestone
TCFHE/ANCHOR BAY/STARZ
amazon.com
$24.77
"God Won't Get You" and "Tennessee Homesick Blues" originated from this goofy flick perfect for movie night. Follow along as Dolly transforms Sylvester Stallone into a country singer. 
Frank Mcklusky, C.I.
Come for Dolly's cameo as David Sheridan's over-protective mother and stay for this seriously silly, action-packed adventure about an insurance claims investigator. 
Christmas At Dollywood
Christmas, Dollywood, and the Hallmark Channel—you can't go wrong with this festive flick that will give you all the holiday feels. 
The Beverly Hillbillies
amazon.com
The Clampetts return to the screen for this 1993 film that is fun for everyone! You won't want to miss out on the legend herself making an appearance. 
The Library That Dolly Built
"Dolly Parton is a symbol of how you can have a great combination of talent, world-wide recognition, but also give back and give to." Learn about Dolly's philanthropic side in this captivating and educational documentary. 
This content is created and maintained by a third party, and imported onto this page to help users provide their email addresses. You may be able to find more information about this and similar content at piano.io
Advertisement – Continue Reading Below