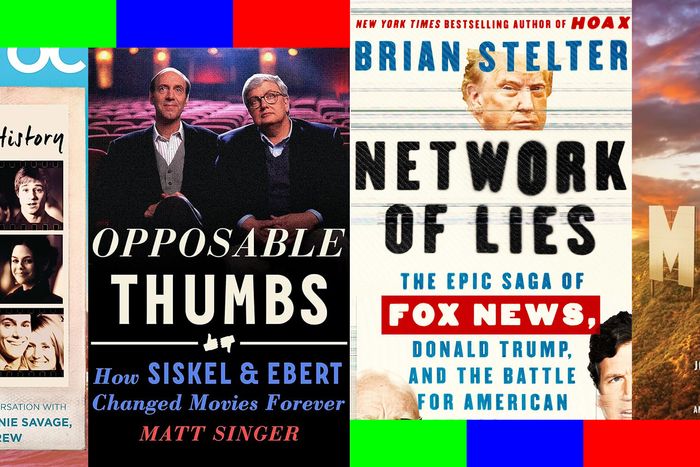 Photo-Illustration: https://pyxis.nymag.com/v1/imgs/72e/36e/4e5693b07f6eb24adca2244e2515859982-buffering-lede-11-21-2023.jpg
For most folks, Thanksgiving week means extra calories, more time with family and friends — and, beginning on Friday, the mad dash to finish shopping for Christmas and Hanukkah presents. Books always make a great gift or stocking stuffer, and the good news for folks into media and pop culture is that a lot of great new titles are out right now. Because "Buffering" always aims to serve, I've put together a brief (but by no means definitive) list of new TV-and-film-adjacent books that have caught my eye lately. I also reached out to their authors to find out what motivated them to tackle their subjects and what they discovered during the process. And remember: There's no rule against giving yourself a few holiday gifts too.
The authors: Rolling Stone chief TV critic Alan Sepinwall (The Revolution Was Televised) with Josh Schwartz and Stephanie Savage
The details: The title is pretty self-explanatory, but it's worth noting the book is not some cursory attempt to cash in on the 20th anniversary of Fox's now-iconic drama. Sepinwall (who, full disclosure, has been a friend of mine since the mid-1990s) talked to basically every important actor, creative person, and executive associated with the series. He also knows his O.C., having written about it extensively when it was on the air. As someone who covered the show from its conception to its finale — as a business reporter, not a critic — I was blown away by how many new tidbits Alan uncovers.
Why they wrote it: "Back in the spring of 2004, I wrote my first book, Stop Being a Hater and Learn to Love The O.C.," Sepinwall told me via email. "While it was exciting for me to be a published author, the book itself was pretty thin, literally and metaphorically, because it was produced in a rush to cash in on the overnight success of the show. Then last year, Josh and Stephanie reached out to me because the 20th anniversary of the premiere was coming up and they wanted to put out an oral-history book; given my history with the show, they wanted me to author it. I'd never written an oral history of any kind before, and because Josh and Stephanie were attached, I knew I would have a relatively easy time getting people to talk to me. (This proved true with only a few exceptions.) Most important, they insisted they wanted a warts-and-all portrait of the experience, and that's exactly what I got. Almost everyone was super-candid about problems with the show, onscreen and off, even as we were all celebrating the good times. It was a lot of work but also a lot of fun to report and then write."
Most interesting discovery: Sepinwall says a chapter about "the disastrous third season is, I think, a revealing portrait of the many different forces that can lead a good show to make a series of cascading bad decisions, with elements of things I know about from many other shows. (Honestly, by the time I was done assembling all the interviews, it felt like I had inadvertently used the story of The O.C. to tell the story of making any TV show, particularly in that era, in a way that would appeal to TV obsessives even if they weren't necessarily O.C. fans.)"
"But the most surprising part of the story by far was about Mischa Barton's exit," he continues. "There was a public narrative for so long about her behaving badly on the set, about her being fired as the result of that or her angrily quitting because she was over the whole experience. And it turned out to not be that at all. Instead, Mischa was largely a victim of outside forces: the show running aground creatively, the network demanding a character death to boost viewership, the showrunners mistakenly assuming Mischa wanted to leave without actually talking to her about it, etc. Life tends to be a lot more complicated than the rumor mill would have you believe, and it was fascinating to have all my assumptions about Mischa turned on their head."
The author: ScreenCrush editor and critic Matt Singer
The details: Finally, someone has done a deep dive into the complex relationship between the two most famous movie critics of the past four decades. While there had been celebrity film reviewers before them, Gene Siskel and Roger Ebert used a national TV platform to bring their appreciation of cinema to the masses. Singer's book looks at how they got together, why their relationship worked, and how they helped birth a generation of film lovers. I wouldn't be shocked if some platform decides to turn it into a limited series or made-for-streaming movie.
Why he wrote it: "If not for Siskel and Ebert, I might never have become a writer," Singer says. "Watching the show as a kid was what first sparked my interest in film and film criticism. I became obsessed with movies and criticism, and that led pretty directly to studying film in college and grad school and everything that's come after. I wrote a book on Spider-Man that came out in 2019, then another book that never came out for reasons beyond my control. At that point, I decided if I was going to write another book, it had to be something I had the final say on, something I originated and got to do exactly my way. My list of ideas to send to my agent did not include Siskel and Ebert at first — mostly because even though I wanted to do it, I was intimidated to tackle this subject that means so much to me. It was my wife who gets credit for talking me into it, partly by insisting I would do a good job and partly by pointing out if anyone else wrote a Siskel and Ebert book, I would be pissed that I missed my chance. She was definitely right about that."
Most interesting discovery: "Part of my research involved watching hundreds of episodes of the show from its 25-year history," Singer explains. "I expected there would be reviews of movies I didn't know, but I assumed they would mostly be junk, forgettable films that fell into obscurity because they weren't any good. What surprised me was how many movies Siskel and Ebert loved that I had never seen or even heard of before. The sheer number of them inspired the one part of the book that wasn't in the original proposal: the appendix, which contains capsule reviews of 25 of these 'buried treasures.' (The name comes from occasional episodes of Siskel & Ebert on which the hosts would recommend films that had flopped in theaters.) Adding that appendix felt like a good way to get a little film criticism into this book about these two hugely important critics who inspired me and many others, and who always said the best part of the job was helping turn independent and foreign movies into hits by inspiring people to head to the theater to see something they might not have seen if it hadn't been recommended on the show."
The authors: The Ringer's Joanna Robinson and Dave Gonzales; Gavin Edwards (The Tao of Bill Murray)
The details: Over the course of more than 500 pages and hundreds of interviews, the authors explore how an iconic 20th-century comic-book brand pretty much willed itself into becoming this century's most potent box-office force. The focus is not on a critical dissection of the individual movies; instead, the book concerns itself with the people and decisions that have shaped Marvel Studios from before Iron Man through today. With The Marvels' box-office performance (or lack thereof) prompting a wave of stories about the studio at a crossroads, this feels like a potential epitaph for the company's first epoch.
Why they wrote it: "Our publisher, Norton, actually reached out to us in 2019 right when Avengers: Endgame was busy dominating the world," Robinson recalls. "I had written a cover story for Vanity Fair in 2017 on the first decade of Marvel Studios, and they asked if we'd like to write an oral history diving deeper into Marvel's history and success. It seemed like a no-brainer. This was not only a great fandom story, it was a great Hollywood story. How did this little studio from nowhere show up and swallow an entire industry? However, having worked with Disney over the years, I was quite skeptical that it would be at all inclined to let us behind the curtain. After some back-and-forth with the publicity team over there, we were assured that they wouldn't necessarily stand in our way."
"This eventually proved not to be the case, and in fact, Disney urged everyone in the industry to ignore our calls and emails," Robinson explains. "This just made us even more excited to get this story that Disney was so keen to keep hidden. It did mean the idea of an oral history was out the window since we would need to include reporting that was off the record or on background. But we got the story, and the finished product couldn't have come at a more interesting time for the Marvel discussion."
Most interesting discovery: "I think the element that surprises people the most is just how unlikely the entire operation was in the beginning," Robinson says. "Starting with no financial backing from their parent company, Marvel Comics, the Marvel Studios founders put together Iron Man on a wing and a prayer and, crucially, very little script. Fueled by a director, Jon Favreau, who had plenty of independent-cinema experience, and a leading man, Robert Downey Jr., with nothing to lose, the story of Tony Stark — a B-list comic-book character — took off like a shot, and everything that fell into place in his wake felt like another miracle. There were endless behind-the-scenes squabbles, power clashes, and lucky breaks in the first decade of Marvel, but you wouldn't know it from the outside looking in. It took hundreds of interviews with insiders to bring us the full story."
The author: Former CNN anchor and New York Times media reporter Brian Stelter (Top of the Morning)
The details: In 2020, Stelter's Hoax: Donald Trump, Fox News, and the Dangerous Distortion of Truth examined the grossly symbiotic relationship between the now–former president and the cable network that helped elect him. Barely three years later, Stelter is back with a new tome revolving around many of the same characters but with an even more dramatic backdrop: Trump's attempt to nullify the results of the 2020 presidential election. He's armed with even more evidence with which to prosecute the case against Fox: thousands of texts and emails from Fox News staffers exposing how the network operates.
Why he wrote it: While there's nothing new about Trump's lying or Fox's perversion of "fair and balanced" reporting, Stelter says having access to the innermost thoughts of the central players was a game changer. "This time, the most explosive quotes are on the record," he told Katie Couric Media last week. "Normally in my media reporting, I have to rely on anonymous sources who are afraid to lose their jobs if they speak out. But because of Dominion's lawsuit against Fox, so many emails and texts and memos have been exposed from the likes of Sean Hannity and Rupert Murdoch. This is the story of the 'big lie' in their own words."
Most interesting discovery: While some of us would argue that Tucker Carlson has been allergic to the truth for decades, Stelter says his reporting suggests he has gone to an even darker place lately. "Tucker Carlson's world kind of shrank during the Trump years," Stelter told the USA Today podcast The Excerpt earlier this month. "As he became a bigger and bigger star, as he became more and more extreme in his rhetoric, more radicalized on the air, he also became unglued and he shut himself off. He moved out of Washington, D.C., for example, and retreated to his compound in Florida and his home in Maine on an island — literally on an island. He was not going into the office anymore. He was not seeing his colleagues in person very often. He was not seeing the head of the network in person. So I think it closed him off a little bit from the outside world and even from the Fox world."
"And certainly I had several sources who still are close to Tucker, who said to me that the Trump era, and then COVID, really changed him," Stelter said. "I've known him for 20 years. Those are not the ideas of Tucker from ten years ago. That's a newer person that's emerged, and he's not hearing countervailing points of view or inconvenient facts. And by the way, this is about much more than Carlson. This is about tens of millions of people in the United States who have totally walled themselves off from hearing countervailing facts and opinions. They only want to hear what they already believe to be true."