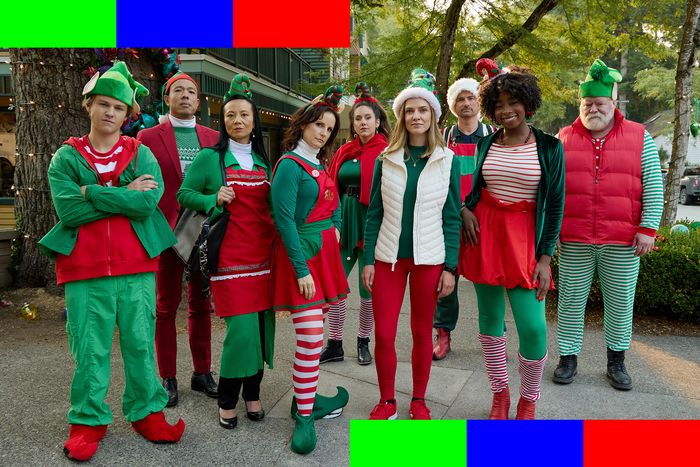 The Hallmark Channel movie Holiday Road.
Photo-Illustration: Vulture ; Photo: Hallmark Channel
There are a lot of lifeless bodies haunting cable television these days, and we're not talking about the ones still flailing about on AMC's Walking Dead spinoffs. Iconic cable brands like A&E, TBS, TNT, USA, and TV Land — which just a few years ago were all still churning out a steady supply of tentpole comedies and dramas — have dropped all ambitions they once had of competing in TV's scripted-content wars. Meanwhile, most of the basic-cable networks still in the fray (AMC, FX, Paramount) have shifted their focus to making shows for streaming rather than playing the ratings game. The cable landscape in 2023 is exceedingly bleak, and yet amid all this carnage, there's one big bright spot: Hallmark Channel.
The brand best known for its ability to churn out a seemingly endless number of new Christmas movies every year has defied the odds by ignoring the conventional industry wisdom that took hold circa 2018, namely that cable is dead and streaming is the future. Instead of slashing costs and cutting back programming, Hallmark still cares enough to send the very best stuff it has to its nearly 70 million cable subscribers: In recent years, the company has maintained the size of its roster of scripted content across both the main network and sister channel Hallmark Movies & Mysteries. This season it's once again serving up a whopping 40 holiday-themed original movies on the two networks, while also continuing to program throughout the rest of the year with at least one new film every weekend. And for the first time in over six years, Hallmark launched new series in 2023, including a time-travel mystery called The Way Home that currently ranks among cable's five most-watched original entertainment series this year. It's set to return for a second season in early 2024. (The network has quietly decided not to renew its other drama launch this year, Ride, a network rep tells Buffering.)
Hallmark is able to keep programming like it's 2013 because its audiences are still showing up every week. Yes, like almost all established cable networks, total linear viewership is smaller than it once was, if only because there's been a marked drop in the number of U.S. homes that even have cable to begin with. At cable's peak about a decade ago, roughly 90 percent of U.S. homes were wired up for programming, allowing widely distributed channels like Hallmark to reach into nearly 100 million living rooms. These days, cable penetration — including folks who get a cable package digitally via YouTube TV or Hulu — is well under 70 percent, making the total available linear audience notably smaller. And yet Hallmark's ratings erosion over the years has been notably smaller than platforms that abandoned original content. The result: It's not uncommon for Hallmark to have the most-watched entertainment program in all of cable on a given night, especially during the holiday season. In many ways, Hallmark is TV's last great basic-cable channel.
Obviously, the network's ratings job has been made easier by having less competition from other basic-cable brands. Indeed, this fall, with the strikes forcing broadcasters to resort to reruns and reality shows to make up for the lack of new scripted fare, Hallmark's slate of "Countdown to Christmas" originals, which kicked off on October 20, has proven particularly potent: It has seen ratings on some nights go up versus last year, something almost unheard of in linear TV today. (A combination of advanced planning and SAG waivers allowed Hallmark to maintain its typical holiday schedule despite the dual work stoppages.) And while the channel is once again dominating the fourth-quarter ratings with its seasonal fare, even more impressive is its year-to-date performance. The main Hallmark Channel currently stands as the No. 2 most-watched cable entertainment network of 2023, with its average total day audience ranking just behind HGTV and ahead of longtime powerhouses such as TNT, Food Network, and USA, per Nielsen. It's also the No. 1 entertainment network in cable among adult women as well as the top entertainment network among all viewers on Saturday and Sundays (total day and primetime). Once the next month of Christmas movies gets factored in, it's quite possible Hallmark will — as it did last year — pass HGTV to claim the full-year ratings crown among entertainment channels.
But while the retreat of its competitors has helped, Hallmark's current success isn't an accident of simply sticking around while the rest of the cable universe crumbled. It's the result of a sound strategy: When other channels hurriedly pivoted to streaming in an effort to compete with the Netflixes and Amazons of the world, the privately owned Hallmark didn't lose faith in traditional cable. Instead, its leadership, including outgoing CEO Wonya Lucas, prioritized serving the still-sizable linear audience rather than obsessing over chasing cordcutters. So while FX exports high-profile new shows like The Bear to Hulu, or Paramount Network puts Yellowstone spinoffs on Paramount+, Hallmark has remained cable-first almost across the board. Even when it has moved to make its programming more accessible to non-cable homes — as with last year's deal with Peacock or its own Hallmark Movies Now direct-to-consumer app — it has insisted cable customers don't get shortchanged. For example, Hallmark movies that stream on Peacock next-day only stay on the NBCUniversal service for 72 hours — the exact same catch-up period Hallmark's cable video-on-demand users get. And while it's experimented a bit with windowing, such as streaming the November 16 Hallmark Movies & Mysteries original A World Record Christmas a week early on Hallmark Movies Now, it hasn't made any high-profile new content a streaming exclusive.
Overseeing all things content at Hallmark Media is Lisa Hamilton Daly, who joined as executive vice-president of programming in 2021 following a stint at Netflix. While at the streamer, she was involved in developing Sweet Magnolias and Virgin River — two hits that wouldn't feel dramatically out of place on Hallmark. During her two years at the cable company, she's worked with Hallmark's leadership team to continue evolving the kinds of movies and series the channel programs, while also being careful not to veer too far from the formula that has made the brand so beloved with its audience. I spoke with the exec about her shift from Netflix to Hallmark, what lessons she's learned about the channel's viewers, and, perhaps most importantly, whether or not there are any unwritten rules demanding every Hallmark Christmas movie protagonist drink at least one cup of cocoa or cider.
Vulture: A lot of people, especially SNL writers, think they have a good idea of what Hallmark programming is all about, especially when it comes to movies. I'm curious what you thought about the Hallmark brand before you got there, and how your understanding of it has shifted since then.
Lisa Hamilton Daly: I worked with a lot of the same producers and writers when I was at Netflix and also at Lifetime, so there was a lot of overlap. And I'd heard a lot about how Hallmark functioned. But I think what I wasn't really ready for was how central the brand is to everything that they do. Netflix really didn't have a brand; they had a lot of different types of programming. Hallmark is the first place where I really felt that everything gets filtered through, "Is this right for our brand?" And I think that learning that and really leaning into that and understanding the power of that has really helped me in programming stuff.
So there was already this strong brand filter when you arrived, and one that was fundamentally working based on ratings. How does that impact what you do in your job overseeing programming, as well what you don't do?
I see it as incremental change. Every change we think about, we center it by asking, "Does this stay true to the mission of a purpose-driven life of love, of emotion, of family?" So we're just trying to find different ways to tell stories that are still centered on those characteristics. Maybe that means it's not always romantic love as the center of a movie. Maybe it's being more diverse in what kinds of people we talk about and what kinds of stories we tell. And I think that as we seek to draw in more viewers and to have everybody be reflected, it's about making sure that the core stories we're telling are still centered on love. That's the big thing.
People who've watched Hallmark movies a lot longer than I have tell me there's been a notable uptick in the comedic content of your movies. Did there used to be some rules about not making things too funny or even goofy?
We had a lot of what you would call rom-coms, but they were very short on the "com" part. They were romantic comedies where people ended up in love, but they weren't often straight-up, laugh-out-loud comedy comedies. We have a lot of movies every year, and we thought, Well, let's try and see if more straight up comedies work for us, because I think that was something that they avoided in the past. Our two top-rated 2022 holiday movies were pretty much straight-up comedy, and that was really a big discovery — that the audience was willing to go there with us. And we still had all of the elements of the Hallmark movie — strong family relationships, a romance — but the core was really just about being funny.
What else did you learn from the 2022 Christmas-movie season?  
I think we learned how important our actors are to our movies' success. Talent really does drive eyeballs. People want to see their favorites over and over again in different situations, and that that really speaks to the great stable of talent that we've built up over the years and how passionately our audience feels about them. They also responded to having a variety of storylines, like The Royal Nanny, which was almost an action-comedy. Look, our formulas are beloved for a reason. People find them very comforting. But I also think with so many movies, you have a shot at trying a couple things and seeing how it goes. So we'll continue to experiment a little bit.
I also feel like we're starting to reflect the real shift in the landscape, which is that linear cable seems to privilege live viewing and event viewing. And I think the more that we can make our programs feel like must-see TV events, the more successful we're going to be. The things that feel viral and fuzzy are the things that are grabbing eyeballs at a really high rate. We're figuring out how to really construct our shows so they feel like, "Oh my gosh, you have to turn this on at 8 p.m. on Saturday night. You've got to watch it when everybody else does."
Can you give me an example of that kind of event for the 2023 Christmas season?
We have a movie set at the Biltmore Hotel in Asheville, North Carolina. It has period elements, and we go in and out of a black-and-white movie. There is a kind of magical-realism element to it. It's really fun, it's a little different. It combines elements of one of my favorite movies from last year, which was the period movie A Holiday Spectacular. And it has a time-travel thing like our series The Way Home does. But it also has classic 1950s movie elements to it with all of the costumes and the sets and the black-and-white and the fun credits. I'm just blown away by how fun and beautiful it is, and I'm really excited for everybody to see it.
You've had a lot of success with some of your year-round franchises, including the Wedding Veil movies. But I don't think you've ever really taken those non-holiday movie characters and brought them into the HCU (Hallmark Christmas Universe) by setting one of the films in the franchise during the holidays. Have you talked at all about doing something like, say, A Wedding Veil Christmas?
We haven't actually spoken about that. We've talked about possibly revisiting them for another trilogy or a final movie. The door is kind of open on those right now, but that's not a bad idea to move between Christmas and non-Christmas. Do you want a producer's credit on that one?
I have plenty of ideas. So you mentioned how important it is for you to create "events" for your linear audiences, which speaks to the bigger part about your success: Hallmark is succeeding with linear at a time when so many other cable networks are struggling. In fact, you could argue you're succeeding because you do so well with live viewing, even as you continue to grow your digital and delayed viewing audience. Why is linear so important for Hallmark? 
I personally love the experience of the channel and just turning it on. It has this kind of holistic feeling when I go there — even the ads. I know that sounds crazy, but it just feels like it's all of a piece, and I think it's a viewing experience that a lot of people still do enjoy.  I've worked at a streaming place where my shows would sit along with everything else, and they did well. But I feel like you come here and everything is kind of catering to a viewer who really appreciates these particular shows. It's kind of a bespoke world. I love that you go into Hallmark Channel, and it feels like a complete experience. It's a place where audiences know that every Saturday night there's a new movie for them there, and they build their evenings around it.
Hallmark historically has had a lot of success with original series, such as The Good Witch and When Calls the Heart, and one of your mandates has been to restart and reimagine that series pipeline. Earlier this year, you introduced The Way Home, and as I was watching it, I kept thinking, This could easily have been on Netflix. Then I found out that you actually developed this show when you were at Netflix. 
Well, the company that developed it actually was going to pitch it to Hallmark — and I kind of hijacked it for Netflix, and we developed the pilot over there. So then when I left, I brought it with me.
It did very well in the ratings for you, and it's coming back for season two this winter. Why do you think it connected?
The show got such great treatment in terms of the marketing and the PR and the social that surrounded it, and I think that was a big element in its success. Fans were able to find it, and we really engaged them. There's a lot of great things about Netflix, but there are just so many shows there. They just can't devote the kind of attention that they've been able to give it. It's sort of the center of our world here. And I love The Way Home. I loved it from the minute I heard the pitch. My series team did an amazing job with the producing team in developing the show out and really living up to the promise of the concept and the pilot. Its position here on Hallmark has allowed it to be coddled and babied and put to the front in a way that probably would not have been on another service. And that's what's been so exciting about it, to see how beloved it's become with our viewers.
What do series deliver for Hallmark that movies don't? Is the audience for both the same?  
There's a lot of overlap. A lot of our current viewers of our movies have transitioned to watching Way Home, and love it. But we've also attracted younger viewers. We do think it broadens our audience a little bit. Movies can be a bit of an older demographic that likes them. And I think series are sort of the centerpiece of a lot of younger-type viewings. So I think for us, that might help us grab some younger eyeballs, keep people excited week-to-week, and introduce new people to the channel.
You also oversee programming for sister channel Hallmark Movies & Mysteries, which for a while seemed to be moving away from the "mysteries" part of the title. But you've reversed that, right?
We're definitely leaning back into mysteries. I think we leaned out for a number of reasons that made sense at the time. But we weren't able to replace them with anything that works better. I think the mysteries that we do feel very unique to us. Fans love them, and they're very devoted to them. So we really did listen to what our viewers were saying, that they really wanted them back. And we're continuing to bring back some fan favorites and then also develop some new ones with younger and different talent. We're just looking for ways to continue to engage that mystery audience.
One way you've been able to make so many movies every year is by going back to a few trusted producers who know how to deliver what you want. But at the same time, you've also said you want to bring in a larger, more diverse set of partners. How do you expand the tent? Do you need to basically audition producers?
It's actually harder to make lower-budget movies than it is to make bigger-budget movies on some level, because you're constantly being challenged with finding clever and different ways to make something look good. And I would say that our movies have a pretty high production quality for not very much money. I credit a lot of that to our production teams and our producers. We definitely have some frequent fliers, people who come back and do all kinds of stuff for us, and we love them and we keep them very busy. But we also have been trying to bring in new producers, and it is trial and error. We usually give people one movie and see how it goes, and if it goes well, we go back. I've brought in some of my relationships [at other platforms], and we're trying to also find more diverse suppliers for movies. We want to have diverse talent in front of and behind the cameras.
Speaking of that, Hallmark Channel has taken heat in the past for making movies that didn't always reflect the diversity of America. Casts were overwhelmingly white and straight. You and Wonya Lucas have been clear about trying to address those concerns, and you've definitely made strides. Where do you think you stand now in that effort?
I think it's a work in progress. It's about figuring out the best way to tell these stories that our audience enjoys. And I've been using this term everyday diversity to describe what we're doing, which is to make sure that the world that you're seeing reflects the world that we all live in. Our movies are about romances. They're not issue-driven movies. Those are not the stories we're telling. So I think it's a constant evolution of, "How do we this in a way that works for our brand and our audience?"
So having now spent an entire season watching Hallmark holiday movies, I've become convinced that your network is secretly funded by Big Cocoa. Is there a rule that somebody must be shown drinking hot chocolate or cider in every film, preferably while walking through an open-air Christmas market? I'm not opposed to it at all, but can you confirm you do in fact mandate these things with your producers? 
They're hard and fast rules, and they cannot be broken. [Laughs.] No. I mean, look, I think the rule has often been "Christmas in every frame," because I think that people love the festive nature of it. As we've started to diversify the stories we're telling, we have maybe lightened up on those rules somewhat. But I do think that people love their Christmas, so we love to lean into all the fun tropes. However, I am always joking with producers that they really need to put something in those cups that they're drinking out of, because you can tell there's nothing in them. That's my personal pet peeve with the movies. I'm like, "Put some cocoa in those hot-cocoa cups!" But people just love it. It puts them in the mood, and it's fun. And if you can't have a stroll through a Christmas-tree farm in a Hallmark movie, then why do we even make the movie?