As rapid-fire TikTok clips take over the world, it increasingly looks like Edgar Wright's butt-kicking romcom Scott Pilgrim Vs the World was ahead of its time. Adapted from Bryan Lee O'Malley's series of six graphic novels about a young Toronto bassist romantically punching above his weight, the movie was a live-action cartoon crammed with visual fireworks and smart-aleck dialogue. The gimmick was whimsical but inspired: what if indie-rock slackers engaged in over-the-top fights inspired by video games and Japanese anime?
Wright's effervescent movie did not become a monster hit on release in 2010, but the actors must have enjoyed the experience. The entire cast – including Michael Cera, Mary Elizabeth Winstead, Brie Larson and several more – have returned 13 years later to voice their characters in Scott Pilgrim Takes Off. Overseen by O'Malley, this new animated series (produced by Tokyo anime studio Science Saru) chimes with the manga-inspired artwork of his graphic novels: all bold lines and big, expressive eyes. At first, though, the show unfolds like a faithful retread of the film (Wright gets an executive producer credit).
Scott Pilgrim (voiced by Cera) is a rudderless 23-year-old playing bass in a scrappy garage-rock group; his bandmates are rightly humiliating him for dating a 17-year-old (the relationship is chaste, but clearly ill-advised). Things get complicated when Scott encounters a more age-appropriate dream girl in his actual dreams. This is super-cool inline skating courier Ramona Flowers (Winstead), who is using Scott's unconscious mind as an inter-dimensional shortcut (the implication is that there might be plenty of unused space in there).
After some initial awkwardness, the two hit it off. But Ramona's seven jealous exes, led by a shady media mogul called Gideon (Jason Schwartzman), want to sabotage her happiness. Wrestling with a partner's romantic history can be an awkward part of any fledgling relationship but here it becomes literal. Scott is forced to engage in mortal combat with Ramona's former paramours in sequence, a tournament structure familiar to anyone who has played Street Fighter II or watched the last half hour of The Karate Kid.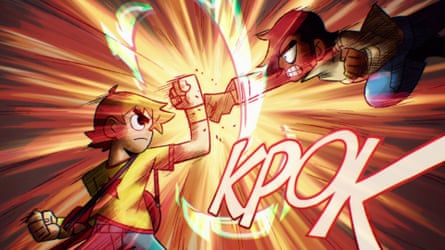 If there was a temptation to take the extra space offered by eight TV episodes to adapt more of the source material, O'Malley and his series co-writer, BenDavid Grabinski, have resisted it. Instead, Scott Pilgrim Takes Off shifts gears and rockets away on a different trajectory. The producers have requested that there be no spoilers on exactly when and how things diverge from the original. But it takes place at a natural break point and is all the better for it.
It is more of a remix than a reboot. The new direction turns the series into a rollicking ensemble piece rather than a hero's journey (Scott is a sweetheart but can be a little self-involved). Stylish dream girl Ramona is more pro-active, essentially becoming the lead for a few episodes. Scott's gay room-mate, Wallace, voiced by Succession's Kieran Culkin, gets extra screen time, which he fills with seductively caustic put-downs of friends and foes.
The baddies – quickly vanquished in the original – are also given room for potential growth. Lucas Lee (voiced by Chris Evans) remains a growling, top-heavy Hollywood action star, but his obnoxious behaviour sees him at risk of being cancelled. Can he turn over a new leaf? Original final boss Gideon, previously just a shadowy presence, faces his own gauntlet of challenges, including an encounter with a girl from his pre-supervillain days.
Among all the mooching and smooching, there is at least one big fight scene in every episode. A standout sequence sees a brawl break out in a video store, sending the characters tumbling through different movie genres, from black-and-white noir to a cowboy movie complete with thundering locomotive. But the fights are not just an excuse for dazzling dimension-hopping. They are a manifestation of unresolved problems and personal accounts that need to be settled. The knockouts can be more cathartic than deadly.
You might expect Scott Pilgrim Takes Off to require knowledge of the movie, or the original graphic novels. But O'Malley and his collaborators have taken care to create something that does not overwrite the originals but cleverly coexists with them. First-time viewers will encounter ingenious breadcrumbs directing them back to Wright's film, the two screen adaptations orbiting around each other. All you really need going in is a residual memory of what it was like to have a crush in your teens or 20s. Some of the sound effects may be lifted from retro video games but the emotions are operatic, evoking that time of life when falling in love is at its most precarious and intense. It's quite the rush.