CNN
 — 

A strong storm system is pushing its way across the eastern US ahead of Thanksgiving and is expected to deliver its most widespread and significant impacts on Tuesday, threatening to disrupt holiday travel with severe thunderstorms, drenching rain and snow.
More than 27 million people from Mississippi to Virginia are under severe storm risk on Tuesday, according to the Storm Prediction Center.
The storms will ramp up in the Southeast Tuesday morning after trekking through east Texas and the Lower Mississippi Valley on Monday, where the system delivered severe thunderstorms, heavy rains and a handful of reported tornadoes.
As Tuesday progresses, pouring rains and winds are expected to expand into the mid-Atlantic before dumping a wintry mix of rain, sleet and snow on parts of the Northeast.
Wet and windy conditions may cause travel headaches leading up to what is expected to be the busiest Thanksgiving travel period in years. The combination of rain and wind may lead to disruptions at airports in large hubs such as New York City, Boston and Washington, DC.
But there is still room for optimism. The storm's impacts are forecast to subside Wednesday as it tracks off the East Coast, leaving much of the central and eastern US to enjoy a dry Thanksgiving day.
See a day-by-day breakdown of this week's forecast here.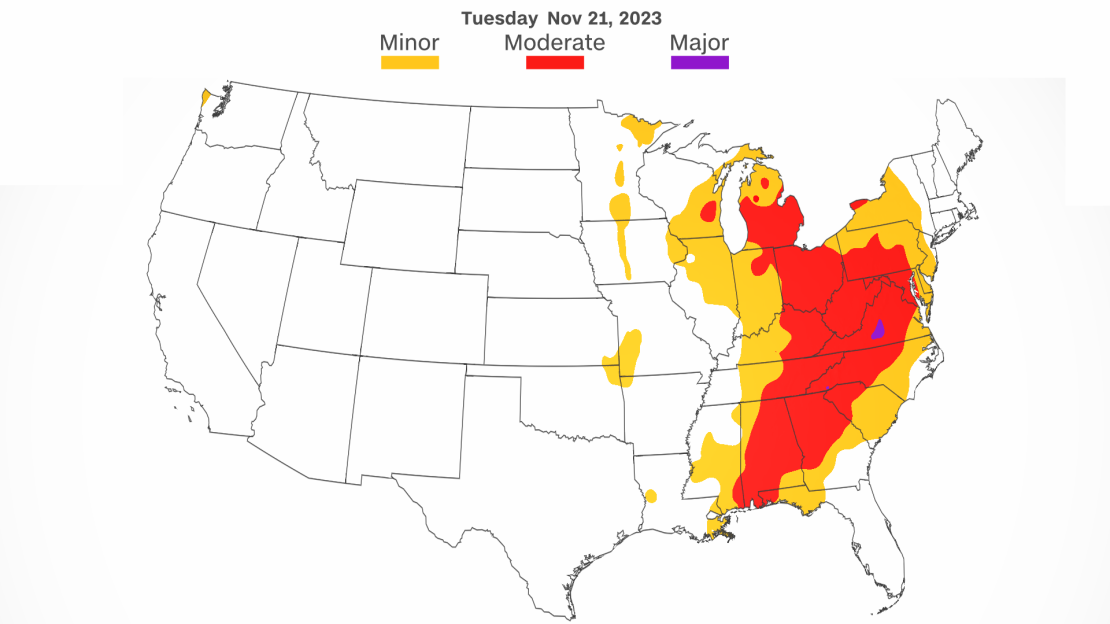 The storm is expected to pummel the Southeast beginning early Tuesday morning, bringing potentially damaging winds and possible tornadoes.
There's a slight risk for severe storms in parts of the southeast, including southern Alabama and the western Florida Panhandle, where the threat is the highest, according to the Storm Prediction Center.
"The potential for locally damaging winds and a couple brief tornadoes will shift farther north and east Tuesday afternoon into early morning Wednesday across most of Georgia, the Carolinas, and far southern Virginia," the storm center said.
Heavy rainfall could be felt from southern Alabama to New Jersey.
Widespread rainfall totals of 1 to 3 inches are possible. Some areas, including Virginia's Blue Ridge Mountains, could receive over 4 inches.
A wintry mix of rain, sleet and snow will dampen elevated areas of Pennsylvania Tuesday morning and southern New York by Tuesday afternoon before pushing into parts of Vermont and New Hampshire in the evening.
High-elevation areas of the Adirondacks and the Green and White mountains are most likely to see accumulating snow Tuesday night.
As the sun rises in the northeast Wednesday, roads may be slick or snowy in parts of Vermont, New York and New Hampshire due to overnight snowfall.
The storm's impact will taper off significantly on Wednesday as it moves off the East Coast, dumping its final remnants on parts of New England. Snow will accumulate in Maine on Wednesday as a wintry mix continues across Vermont and New Hampshire.
CNN Meteorologist Mary Gilbert contributed to this report.